TFG Crowd is a business crowdfunding company registered in Estonia and with offices in Estonia, United Kingdom, Latvia and Germany that is part of the TFG group, whose branch of payment solutions, TFG Pay has authorization from the FCA as a financial services provider.
This is the latest addition to the set of high performance crowdinvesting platforms in the style of Envestio , Crowdestor and Kuetzal, and the truth is that the first sensations are very positive.
Prepare yourself because in this MEGAReview we tell you our impressions and EVERYTHING you need to know … right now!
" TFGCrowd is a very interesting addition to the cast of crowdinvesting platforms that since the beginning of 2018 are leading the profitability rankings of the peer to peer platforms.
With a very accessible interface, a good performance of its loans and interesting guarantees in most of its operations, it is emerging as a clear alternative and complement to Envestio and company.
"
.
ATTENTION: join us and join the investment community of TFGCrowd through our exclusive link and you will get our PDF Guide with more than 50 Crowdlending and Crowdfunding Platforms to invest.
What is TFGCrowd Statistics and Global Data
TFG Crowd is the business crowdlending branch of TFG (The Financial Group Limited) , which has a number of companies dedicated to providing specific services in the conglomerate, the best known being TFG Pay a credit company authorized by the Financial Conduct Authority of United Kingdom (FCA).
Despite being registered since 2017, TFG Crowd recently opened its operations at the beginning of 2019 to any European investor interested in participating , so there are still no relevant statistical data regarding the volume financed or registered users.
First Steps in TFGCrowd
TFG follows a registration procedure common to other P2P companies , which involves completing an initial questionnaire, validating the email address, identity verification and executing a first transfer to start investing.
Requirements to create an investor account in TFG Crowd
+ Be of legal age
+ Have a bank account in the European Union.
Steps to Open an Account in TFG Crowdlending
➊ Fill in the initial registration form.
➋ Confirm the email address.
➌ Upload the necessary identity documents to verify identity.
➍ Make the first bank transfer from an account of our property in a European space bank.
Deposits

 

How to add funds to our TFGCrowd account
Like most European crowdlending platforms, TFG has an account number in a bank, in this case Paysera, a popular Lithuanian online payment service with European electronic banking license, to which we must make the corresponding transfer indicating the reference number that TFG crowd will also provide in the form. It does not have any complication.
TFG Crowd Promo Code – New Users Bonus
TFGCrowd does NOT currently have any active promotion for new users who want to try the platform.As soon as there is one available we will make sure to update this section so that you can always take the best starting conditions in each platform we discuss.
How TFGCrowd Works
TFG Crowd is a "0.0" platform, with absolutely NO commission for the investor, as we likeand as it should be in ALL platforms 🙂
How to Invest in TFG Crowd in 2020
In TFG, as in most crowdinvesting platforms, there is only one type of investment: the manual for projects from 100 euros per operation. We will comment below some of the most important parameters that define the aspects of the investment.
Manual Investment Analysis TFGCrowd – Most Important Parameters
In the INVEST tab we will have the entire catalog of loans available to invest in TFG Crowd from 100 euros per transaction. Usually we will have 2-3 open opportunities, so we can diversify our capital between several operations without too much trouble.
In the initial screen we will access the most basic information, of which we highlight the following 3 parameters:
➊ Requested Quantity
The majority of loans in TFG Crowd are in the vicinity of the hundreds of thousands of euros of financing required, although punctually smaller loans can be observed in their marketplace.
➋ Interest Rate
Probably the most important parameter of all. TFG Crowd is a high performance platform, with which we will usually see projects above 15%, in fact it is not uncommon to find projects at 17% with 100% of the insured capital as in which we have invested and it will serve us as example. Interest rate payments start calculating from the day the client makes the investment! 
➌ Covered Percentage and Number of Investors
The percentage we see in this area is the% of financing that has already been covered by TFG investors (in this case, called BACKERS)
If we click on a specific project we will access much more interesting information
➍ Payment of Interest and Repayment of Capital
In the detail card one of the characteristics that we will see first is the frequency of interest payments (in most projects, monthly) and the repayment of capital (in most opportunities at the conclusion of the same).  Interest rate payments start calculating from the day the client makes the investment.
➎ Loan Security (Guarantees)
If we continue reading the details of the project, we will usually find a description of the company, the purpose of the loan, business model, etc. until you get to a section that says "Investor benefits and loan security"
This part is key to understand the guarantees associated with the operation, which in TFG Crowd vary greatly, and can range from personal guarantees or more frequently mortgage guarantees and -as is the case of the example- even an insurance that covers 100% of the capital what we invest-
TFGCrowd How Autoinvest Works – Step by Step Tutorial and Configuration
The platform does not have an Auto-reverse function. Although it is always an interesting feature, like most crowdinvest pages, TFG Crowd has a perfectly manageable volume of opportunities in manual mode, so we do not consider this lack a priority.
TFG Crowd Secondary Market and Liquidity
TFG has no secondary market, and as with most crowdinvesting platforms, our capital will be tied to the platform until the expiration of the operation in which we have invested, with which liquidity will be limited.
TFG Crowd Buyback Repurchase Guarantee
TFGcrowd does not have a Buyback as such, but each operation has a series of associated guarantees that we can consult as described in the previous points.
UPDATE: Since September 2019, TFG Crowd now has a BUYBACK FUND which will (partly) cover defaulted projects up to the amount of that fund.
Besides, the BUYBACK EXTRA feature that will cover 100% nominal value of our investment if there is any defaulted project by 31st of December 2020.
TFG Crowlending Cash Withdrawals
TFGCrowd allows us to withdraw our available balance at any time and from one euro, without charging any type of commission to the investor . Usually the withdrawals are processed quickly and in one or two business days we will have the money back in our bank account.
TFGCrowd OÜ is safe?

 

Risks and Regulation
TFGCrowd is a company registered in Estonia since June 2017, with registration number 14278391 subject to the commercial laws of Estonia and Europe. In addition, this company is part of the conglomerate TFG (The Finance Group Ltd), whose branch of payment solutions TFG Pay is licensed by the FCA (Financial Conduct Authority) equivalent to the CNMV in the United Kingdom.
Like the rest of the platforms in crowdinvesting, investing in TFG Crowd projects can be a very profitable activity, but not without risk, some of which we indicate below:
Risk of Lack of Liquidity
In TFGCrowd there is no secondary market, direct sales or any other mechanism that allows us to dispose of our shares early if necessary. In addition, there are short-term projects -about 6 months- but there are also frequently longer-term projects -24 months- with which we must be aware that liquidity is a matter to be assessed in this platform.
Risk of non-payment of loans by borrowers
Defaults are probably the biggest risk faced by a crowdlending investor. In TFG, different measures are carried out to mitigate this risk, and it is very important to read the "Loan Security" section of each operation in which we are interested in investing.
In TFGCrowd we will find loans with capital 100% insured or protected by mortgage guarantees, personal guarantees or other guarantees. Each project is different, and it is our responsibility to read the details carefully to find out the degree of coverage of each specific loan. Recently, in addition, TFG Crowd has included Repurchase Guarantees for most of the new projects it publishes.
On the other hand, TFG Crowd actively participates with its own funds in the same operations that it publishes for investors, which ensures the alignment of interests between the company and its users through the Skin in the game mechanism.
Bankruptcy risk of one of the Originators
In TFG Crowd there are no Originators, so this risk is not applicable.
Bankruptcy Risk of the Platform
There is no explicit mention in the FAQ or as far as we know in the platform's T & C about exactly what would happen in the unlikely event that the platform breaks down. Recall in any case that TFG Crowd is part of the TFG business Holding, which has in its subsidiary TFG Pay with authorization from the British FCA.
TFG-Crowd Web Ergonomics and Reports
The website of TFG Crowd is very simple to use, with great simplicity and clarity in the presentation, being suitable to navigate even for the most novice in the world of crowdlending.
If we carry out the distance study in clicks for the most habitual operations that we usually carry out, we obtain the following results:
★★★★ 4 clicks to invest in one of the loans.
★★ 2 clicks to see the status of one of the loans in which we have invested.
★★★ 3 clicks to withdraw money.
Which is in the average of the crowdlending platforms analyzed.
TFG Crowd Annual Return Real Expected
✰ TFGCrowd presents an average gross return of approximately 14 % , depending on the specific opportunity.
✰ It does not present management commissions, nor any other type of commissions, with which there are no losses in this sense.
✰ TFG presents guarantees and coverage in all its loans -consider that, yes, the detail of each one of the operations! -, which is not to expect a substantial reduction due to long-term defaults.
✰ The estimated annual average net profitability, therefore, is 14% base less (0)% of losses and commissions = 14% net annual for a well-diversified portfolio in the long term , which is above the average of crowdlending platforms evaluated on this web.
Taxation TFG P2P OÜ – Tax Retention 
TFG Crowd DOES NOT practice any retention of the interests obtained in its platform. It is our responsibility to declare them in the IRPF / Annual Income Tax Return. Remember that the interests of crowdlending are taxed as return on movable capital. In case of doubts, please consult with a tax advisor.
TFG Crowd P2P Lending – Contact Information and Customer Service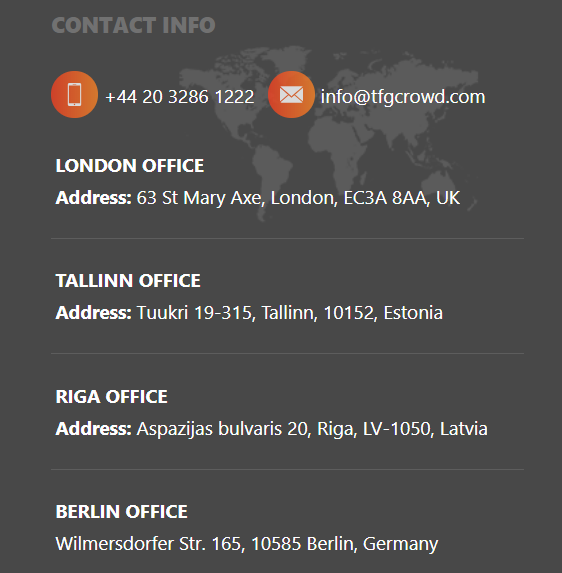 TFG Crowd has physical offices in the United Kingdom, Estonia, Latvia and Germany, as well as a general customer service telephone number +442032861222 and a contact email for the investor, info@tfgcrowd.com
In our experience, the TFG Crowd staff responds to inquiries very quickly in an effective and professional manner.
The Team behind the Company
Emil Kerimov – Founder and Executive President
Emil is an ambitious and audacious entrepreneur who has more than a decade of experience in financial institutions, during which he has successfully created and managed different startups across Europe.
Natalja Nikitina – Commercial Director
Natalja is a successful specialist in Business Management who puts all her experience and talent at the service of TFG Crowd in order to achieve the objectives set by the Company's Management.
Elans Dimitrijevs – Business Development
With a double degree in International Business and Law, Elans contributes all his good work in the business development of the TFG Crowd team.
Vladislavs Ovcarovs – Technology Director
Specialist in Marketing and Information Technology, Vladislavs is the technology manager of this business crowdfunding company.
Is TFG Crowd reliable?

 

Opinion

 Forums, Networks, Aggregators …
The few opinions of existing aggregators for TFG Crowd are all positive, and there is not a single negative comment, although they do not yet have statistical significance as they are a platform recently made known to European investors in crowdlending.
We will update this section with the most relevant comments reported by users.
Our Personal Investment Strategy in Crowd TFG
✰ Diversification is the key: We can take advantage of the reasonable volume of offers in this platform of crowdinvest to distribute our capital in several projects -even at the cost of sacrificing a little the profitability- and thus not concentrate all our investment in a single operation.
Opinion TFG Crowd 2020 – Final Conclusion
TFGCrowd is a very interesting addition to the cast of crowdinvesting platforms that since the beginning of 2018 are leading the profitability rankings of the peer to peer platforms. With a very accessible interface, a good performance of its loans and interesting guarantees in most of its operations, it is emerging as a clear alternative and complement to Envestio and company.
Advantages of TFG Crowd – Strengths
➊ Attractive average returns in the vicinity of 14%, but with abundant offer at higher percentages such as 17%
➋ Very interesting guarantees on most loans.
➌ Good offer of projects available to invest, equal or superior for now to most of its direct rivals.
➍ Involvement of the management team in all published operations, aligning their interests with that of investors through the Skin in the Game mechanism.
Weaknesses and Aspects to improve
➊ TFG Crowd is a young company that is increasing its customer and investor base. The long-term performance of its operations is confirmed.
Alternatives to TFG Crowd Review
More than alternatives, we must take some of the sister pages of TFG Crowd as excellent complements for it, all of them Estonian platforms of high profitability crowdinvesting: Envestio, Crowdestor and Kuetzal.
TFG Crowd Forum
Do you want to have a space to comment and share your doubts and experiences about this Estonian crowdinvesting platform? … Look no further, here below we enable the TFGCrowd Forum so you can express yourself and ask freely … Write us your comment! 🙂