Monestro is a crowdlending company specializing in P2P loans, licensed as a credit intermediary by the Estonian Financial Supervisory Authority since October 2016.
Despite being a young platform and small compared to others we have reviewed on the web, with average gross profits over 25% and investments from only 10 euros per operation it is well worth dedicating a full article … will it be the height of entering the big door in our global portfolio of crowdlending?
Keep reading because we tell you EVERYTHING right now in this MEGAReview 🙂
"Monestro is a page of crowdlending with potential, authorized by the Estonian Financial Regulatory Entity and with some very interesting potential returns … However, the handicap of its small size and relatively high risk will probably only make it suitable for the older veteran crowdlenders. seek to diversify and leave the usual platforms. "
.
ATTENTION: join us and join the Monestro investor community through our exclusive link and you will get our PDF Guide with more than 50 Crowdlending and Crowdfunding Platforms to invest.
What is Monestro Statistics and Global Data
Monestro is a platform of loans between individuals of Estonian origin that at first glance draws attention to two things: the high gross profitability of its operations -with an average of 26.6% at the time we write these lines-, and the small volume of loans managed by the platform on a day-to-day basis – with only 2 or 3 loans – each for low amounts, of the order of a thousand or two thousand euros – available to investors.
First Steps in Monestro
Monestro follows a registration procedure common to other P2P companies , which involves completing an initial questionnaire, validating the email address, verifying identity and executing a first transfer to start investing.
Requirements to create an investor account in Monetro
+ Be of legal age
+ Have residence in the European Union. Other citizens can invest in consultation with the staff of Monestro.
Steps to Open an Account in Monestro Crowdlending
➊ Fill in the initial registration form.
➋ Confirm the email address.
➌ Carry out the identity verification process, which depending on the case may require uploading an identity document, proof of address and video call.
➍ Make the first bank transfer from an account of our property in a European space bank.
Deposits

 

How to add funds to our Monestro account
Like most European crowdlending platforms, Monestro has an account number in a bank, in this case AS SEB Pank, to which we must make the corresponding transfer indicating the reference number that Monestro will also provide in the form . It does not have any complication.
Monestro Promo Code – New Users Bonus
Monestro does NOT currently have any active promotion for new users who want to try the platform.As soon as there is one available we will make sure to update this section so that you can always take the best starting conditions in each platform we discuss.
How Monestro Works Commissions
Not that Monestro has an exorbitant commission, far from it, but he has the always annoying small commission for each withdrawal we make (in this case 40 cents), small commissions for purchases and sales in the secondary market … and what is probably the more bizarre commission that we have found to date: for each Auto Invest that we activate from the third, we will have to pay … 5 euros! … so you know, do not have more than 3 AI activated at the same time 😉
How to Invest in Monestro in 2020
In Monestro we have 3 main forms or modalities of investment. In the following sections of this review we will describe each of them:
✰ Manual Investment from just 10 euros per loan.
✰ Automatic Investment through the functionality of Autoinvest.
✰ Investment in the secondary market.
Manual Investment Monestro Analysis – Most Important Parameters
➊ Loan Purpose 
It is not that it is an exceedingly relevant parameter, but it is with the first one that we are going to come across. Here we can see if this is a loan to renovate the house, to go on a trip or for a specific business.
➋ Country 
In Monestro, the vast majority of loans have Estonian origin, just like the platform, but we will be surprised to find loans from Switzerland, the United Kingdom, Finland, Germany or Spain from time to time in your marketplace …
➌ Period 
The duration in months of the loan. The average in the platform is around 20 months, which should be considered an investment in the medium-long term.
➍ Interest Rate 
With an average gross interest rate offered in the environment of 26%, this is undoubtedly one of the strong points of the platform … although we must also weigh the risk, these nuances will be responsible for the following two parameters.
➎ Credit Score 
The Credit Score is a parameter that measures the risk of each operation, in Monestro it oscillates between 6.0 and 45.0 (the higher it is, the more risk there is), and it can be interpreted subjectively with the% of expected loss for that particular operation. That is, if we subtract the parameter "4" minus the "5", we would have the net profitability mathematically more likely for that particular loan.
➏ DSTI 
The DSTI or Debt Service to Income is another risk ratio that gives us the proportion of the debt that the borrower has to pay against his income. The smaller it is, the better, hence we will often see that the higher DSTIs carry better gross profit in most cases. The limit in Monestro is 70%
Monestro How Autoinvest Works (Automatic Investment) – Step by Step Tutorial and Configuration
Monestro has a simple Autoinvest to configure … but difficult to master, especially for its complex and unintuitive management section in terms of risks. Next, we show you everything you need to get it going in 7 steps.
➊ The first thing we will do is name our portfolio of Auto Invert (you can have several active at once … but remember that from the fourth charge 5 euros for each!)
➋ Next, we will define the portfolio size. When Autoinvest reaches this amount of managed assets it will automatically stop and will not continue to buy loans.
➌ Later we will indicate the amount that we are going to invest per operation, here we recommend always to put the minimum amount, in this case 10 euros to diversify to the maximum.
➍ In this section we can indicate if we want to configure any of the additional filters. In the screenshot we have deployed them, but we recommend touching them … they are too specific, they do not add much value and the offer is not so abundant in Monestro in any case.
➎ Then comes the time to define the minimum and maximum Credit Score (CS) in which we are willing to invest . Remember that the CS can be interpreted more or less as the expected loss in% of the capital that we invest. The decision of which range to choose should be of each investor based on their risk profile.
➏ This is the most complicated step: for the minimum and maximum value of CS that we have chosen in the previous step, we will have to specify the minimum profitability that we are willing to accept, which in turn will determine the expected net profitability as shown the interactive graphic In case of doubts, better leave the ones that appear by default.
➐ Finally, we will activate the Autoinvest portfolio by pressing the ACTIVATE button.
Monestro Secondary Market and Liquidity
Theoretically, Monestro has a secondary market that we can access from the SECONDARY MARKET tab , and we say theoretically because at the time of writing these lines there was no loan in it, so we can not evaluate how easy or difficult it can be to buy and sell loans in it.
Monestro Buyback Repurchase Guarantee
Like most marketplaces of loans between people like Bondora or Finbee, Monestro DOES NOT have a Repurchase Guarantee on its loans , a fact that it tries to compensate by offering a higher gross return than normal, (an average in the environment of 26). %)
Originators Monestro Crowfunding
Monestro directly puts lenders in contact with borrowers, without the Originator figure or any other intermediate part beyond the platform itself.
Monestro Crowlending Withdrawals of Cash
Monestro allows us to withdraw our available balance at any time and from one euro, but charges a small fee of 40 cents each time we order a transfer. Usually the withdrawals are processed quickly and in one or two business days we will have the money back in our bank account.
Is Monestro P2P OÜ safe?

 

Risks and Regulation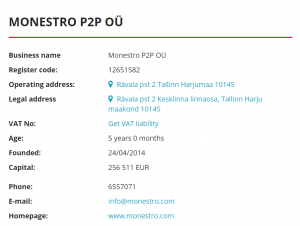 Monestro is a company registered in Estonia since April 2014 with the registration number 12651582 that also has a license from the Estonian Financial Conduct Authority (equivalent to the CNMV in Estonia) since September 2016, providing full guarantees from the point of view of the regulatory framework.
Like the other platforms in crowdlending, investing in P2P loans in Monestro can be a very profitable activity, but not without risk, some of which we indicate below:
Risk of Lack of Liquidity
In Monestro the loans are raised in the medium to long term, with an average of about 20 months.Although there is a secondary market, the volume of transactions is low , which means that the liquidity of our investments may not be optimal if we need an early repayment.
Risk of non-payment of loans by borrowers
The risk of default by the borrowers is always one of the most important issues in a crowdlending platform and even more in the pages specialized in P2P loans such as Monestro.
Monestro DOES NOT have a Buyback or Repurchase Guarantee, so we have to expect that a% of our loans end in losses that detract from the performance of the gross return of our portfolio.
As explained above, Monestro has specific parameters such as the Credit Score (CS) to manage risk and help us make an informed decision about whether or not to invest in a certain operation.
Bankruptcy risk of one of the Originators
In Monestro there are no Originators, so this risk is not applicable.
Bankruptcy Risk of the Platform
There is no explicit mention in the FAQ or as far as we know in the platform's T & C about exactly what would happen in case the platform went down. In any case, being Monestro an investment page regulated by the Estonian Financial Authority , it presents greater guarantees in this sense than many other platforms without a specific regulatory framework.
Ergonomics Monestro Web and Reports
The Monestro website is relatively easy and simple to use … something far from the traditional canons of the typical Baltic platforms in terms of usability, design and colors, but good enough and suitable for everyday use.
If we carry out the distance study in clicks for the most habitual operations that we usually carry out, we obtain the following results:
★★★ 3 clicks to invest in one of the loans.
★★★ 3 clicks to see the status of one of the loans in which we have invested.
★★★ 3 clicks to withdraw money.
Which is in the average of the crowdlending platforms analyzed.
Monestro Real Annual Lifetime Expected
✰ Monestro has an average gross return of approximately 26 % , depending on the type of loan and the credit quality of the borrower
✰ Does not present management commissions, nor any other type of commissions for other basic operations, except for 40 cents for each withdrawal, which for the purposes of this calculation are considered negligible.
✰ Monestro presents a relatively high default rate, which is similar to the gross initial return, which we estimate at 18% based on the average Credit Score of the platform.
✰ The estimated annual average net profitability, therefore, is 26% less base (18)% of losses and commissions = 8% net annual for a well-diversified portfolio in the long term , which is below the average of crowdlending platforms evaluated on this web.
Taxation Monestro P2P OÜ 
Monestro DOES NOT practice any retention of the interests obtained in its platform. It is our responsibility to declare them in the IRPF / Annual Income Tax Return. Remember that the interests of crowdlending are taxed as return on movable capital. In case of doubts, please consult with a tax advisor.
Monestro P2P Lending – Contact Information and Customer Service
Monestro is not that it offers an arsenal of ways to get in touch with them … but the one they have, the email (info@monestro.com) works correctly, and we often have a satisfactory answer to our questions or concerns within a reasonable period of time .
The Team behind the Company
Monestro is a small company, and we only have information about its management team, although on the website we are assured that some of its members have more than 25 years of experience in the sector.
Jaak Roosipuu – Co-Founder
Bachelor of Economics and MBA, Jaak, one of the co-founders of Monestro has been in the investment sector since 1992, contributing all his experience to the Monestro team.
In this space we will include a video of the company when it is available.
Is Monestro reliable?

 

Opinion

 Forums, Networks, Aggregators …
| | PUNCTUATION | OPINIONS |
| --- | --- | --- |
| GOOGLE MY BUSINESS | | 3 |
The few opinions of existing aggregators for Monestro are positive, and there is not a single negative comment, although this is not statistically relevant.
In the European community we have detected a neutral perception, quite coincident with ours that we detail below, highlighting its potential profitability but putting its small size as one of the challenges for the future of this company.
Our Personal Investment Strategy in Monesto
We only discuss details of advanced strategy on investment websites with 4 or 5 star rating.
Opinion Monestro 2020 – Final Conclusion
Monestro is a page of crowdlending with potential , authorized by the Estonian Financial Regulatory Entity and with very interesting potential returns … However, the handicap of its small size and relatively high risk will probably only make it suitable for the most veteran crowd-searchers looking for diversify and leave the usual platforms.
Advantages of Monestro – Strengths
➊ Crowdlending platform authorized by the Estonian Financial Supervisory Authority.
➋ Average gross returns around 26%
➌ Good geolocalized add-on in Estonia for P2P platforms such as Bondora or Neo Finance
Weaknesses and Aspects to improve
➊ Company size by volume financed very small, with a very limited loan offer.
➋ High risk in their loans, with relatively frequent occurrence of delays and defaults.
➌ Autoinvert setting not suitable for crowdlending novices.
Alternatives to Monestro Review
As alternatives to Monestro, within the specialized platforms for loans between individuals, Bondora is undoubtedly the number 1 option , with unparalleled diversity, investments from a single euro per loan and more than two decades of experience. Neo Finance and Finbee are two other very good options of Lithuanian origin and with very good benefits.
Monestro Forum
Do you want to have a space to comment and share your doubts and experiences about this Estonian platform of crowdlending? … Look no further, here below we enable the Monestro Forum so you can express yourself and ask freely … Write us your comment! 🙂
Summary
Reviewer
Alternative Investments Club
Review Date
Reviewed Item
Author Rating